After a short hiatus from the Top 5 list to handle other important topics, we return to our list with the number 2 most disturbing thing in pest control, German Cockroaches.
German
cockroaches
are the small, fast cockroaches that are most often found in restaurants.  Pretty much every restaurant has dealt with them at one time or another but German cockroaches can also be found in many other locations, including your kitchen!  They are referred to as German cockroaches because of the two black stripes on their pronotum (aka back of the neck), thought to resemble German military stripes.
How Do They Get In?
Infestations arise when the roaches or roach eggs hitch a ride from one of the restaurant's suppliers into the restaurant, or from the grocery store to your pantry. Typically they will come in the cardboard boxes or packaging coming from warehouses. Roaches can also hitch rides with employees or customers. We once took over service for a restaurant that had a pretty bad infestation and we ultimately had to do roach control at all the employees' houses and some of their relatives' houses too. With pest control, it's always a good news, bad news situation. The bad news is, you got a problem…good news is, we can take care of it! These little cockroaches can hide almost anywhere, they need only the tiniest of cracks or crevices to find shelter. Their babies are even smaller and they multiply very rapidly! Look close, those are all cockroaches!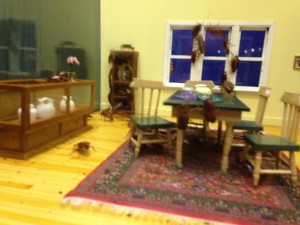 But My House Is Clean, How Do I Still Have A Problem?
 It is not really filth that starts the infestation, but filth can make infestations tough to control. With a combination of baits, non-repellent insecticides, and insect growth regulators, German cockroaches are fairly easy to control for experienced pest management professionals.  There is one exception however, hoarders.  Cockroaches love hoarders.  It is hard to treat an area infested with roaches when you can't even see the floor, or the walls in some cases.Bait may not work either since the roaches are full from eating all the filth behind and under all the junk. When I first started my business, I did a roach job for a landlord whose tenant was a terrible hoarder. I remember opening a cabinet in the kitchen and slamming it back shut when I saw all the roaches swirling around in there. You have to try real hard not to scream…must stay professional and not scare the client!  In the same house while I was spraying into a heap of junk, rotting food, and cat feces where I saw roaches in the living room, something big moved. I watched in disbelief as a guy emerged from under a blanket near where I was spraying.  Imagine the smell!  Believe it or not, we got pretty good control of the roaches but it took a lot of extra effort and return trips.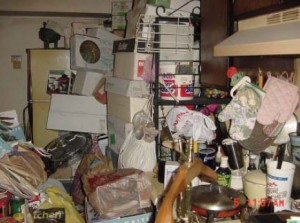 Roaches plus hoarding = mega disturbing!  When we first walk in to a hoarder's place and they tell me, "I don't know why we have all these cockroaches!?"  I usually tell them, "I think I have a theory!"
What Are The Dangers?
Roaches can contaminate food and eating surfaces with their feces and by tracking through gross stuff onto the food.  They are also the number one contributor to childhood asthma. In fact, German cockroach infestations have their own distinct, acrid smell. I can usually smell it before the door even opens. The thing that is most disturbing about German roaches to me, however, is their ability to scurry. Slow, lumbering Madagascar hissing cockroaches don't bother me at all. There is just something about an insect that can scurry and hide in tiny, almost unseen cracks, that freaks me out.