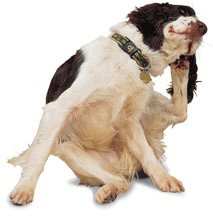 Protect Your Pets From Fleas and Ticks
Most pet owners know the importance of keeping their pets free from fleas and ticks – they can cause itching, irritation, and the transmission of harmful diseases.  But what most pet owners don't know is that only a very small fraction of the infestation actually occurs on the pet – 95% of the infestation is eggs, larvae, and pupae that are in the pet's environment.  This is why the preventative treatments for your pet are only part of the solution.   Our flea and tick control service will complete the solution to fully protect your pet.
◊  Effective against both fleas and ticks 
◊  Service includes two outside treatments per year – one in February or March to stop the growth of overwintering eggs and larvae and another in June, just before the peak season
◊  If there are fleas or ticks in your home, indoor treatments are also included, at no additional cost
Click the button to get a quote or sign up now!
Or you can call or email us at the numbers at the top of the page
______________________________________________________________________________________________
Does it work?
"We developed this program because of the failures we kept seeing in the field with pet-applied products. Using knowledge of the pests' biology and available insecticides we evaluated several approaches over a period spanning a few years. We finally settled on our current method as the best possible strategy. It's extremely effective in filling the gaps left by the pet-applied products and gives pet owners a complete answer to the problem of preventing fleas and ticks."
Dr. Scott Lingren Board Certified Entomologist Venus Pest Company President
How do we do it?
This program is centered around two treatments that are completed at specific times of the year in order to maximize effectiveness.  Our first treatment is an environmentally friendly Insect Growth Regulator applied in February or March. This stops overwintering eggs and larvae from developing.  Our next application comes in June, just before the normal peak in flea and tick activity.  This application targets both fleas and ticks with a pyrethroid insecticide and an IGR.  As with our mosquito service, we use backpack mist blowers to make effective applications with less insecticide.