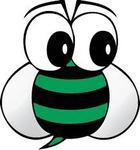 Bee Green – We Are!
All of our programs use Integrated Pest Management, an ecological approach to pest management that reduces reliance on pesticides.  The BeeGreen Program takes it one step further by using only active ingredients deemed as reduced environmental risk by the EPA.  We also use baits in the program.  Baits have been shown to reduce by 90% or more the amount of active ingredient needed to gain control of pests
◊  Same warranty as conventional treatments
◊  Available with Basic Pest Control and Termite and Carpenter Ant Control
◊  Outside only treatments unless inside treatment is requested by client
Click the button to get a quote or sign up now!
Or you can call or email us at the numbers at the top of the page
______________________________________________________________________________________________
Does it work?
We still offer the exact same warranty as with our conventional programs and will come back as often as needed to get control.  Also, we can, if requested by the client, make an occasional conventional treatment when needed to get control of a specific problem.
How do we do it?
There have been major advances in insecticide technology over the last few years that allowed us, in 2009, to launch our BeeGreen program.  These advances created many new insecticides that were not only environmentally friendly but also extremely effective against pests.  These new insecticides, along with the older environmentally friendly products form our BeeGreen Program.